Los Angeles Birth Injury Lawyers

Once a child is born, the last thing a parent wants to do is second guess the doctor and medical staff who delivered their child. Although many birth injuries can be avoided, they still occur and can be devastating to a family and the child. If your baby suffered a birth injury, you may wish to have your situation reviewed by a birth injury attorney to determine if there was medical negligence. Remember, "negligence" means medical mistakes, and such a claim does not mean your doctor did anything on purpose. Rather, a medical malpractice case exists when a medical mistake breaches what the law requires.
Nurses, doctors, midwives and other medical professionals have a legal obligation to uphold the standard of care needed to safely bring a newborn into the world. Unfortunately, negligence, wrongful acts and medical mistakes during a baby's birth still occur, resulting in serious consequences such as catastrophic injury, permanent disability or even wrongful death. Whether your baby experienced reduced blood flow, traumatic injury during delivery or hypoxia, you may be entitled to bring a claim for the loss of your child's health and wellbeing and the long-lasting medical expenses that will span the child's life.
McNicholas & McNicholas, LLP is here to help and guide you through this challenging time.

What are Some Common Birth Injuries?
Birth injuries come in many sizes. Some types of birth injuries are less severe than others, but all are tragic. Here are some common birth injuries:
Cerebral Palsy – When a doctor improperly uses forceps, fails to identify a breech position, fails to monitor mom and baby or fails to recognize problems with the umbilical cord, the newborn may be left with cerebral palsy. The most common symptoms of cerebral palsy are impaired movement and motor function often caused by improper use of medical equipment. It's an incurable medical condition that children will have for the rest of their lives.
Brachial Plexus injury – This is a group of nerves that stretches from the fingers to the spine and injuries can range from inability to make a fist to spinal cord tears. Brachial plexus injuries, or Erb's palsy, are caused by damage to these nerves that cause weakness, loss of feeling or restricted movement in the arm or hand. During birth, these injuries can be caused by forceps, a vacuum extraction, a breech delivery, large infant size or the infant's shoulders being lodged in the mother's pelvis.
Cerebral Ischemia – This is commonly called reduced blood flow and can lead to death in as little as five minutes. Cerebral ischemia, or brain ischemia, causes the brain to shut down. It can be caused by maternal infections or medical conditions, placental disorders, oxygen deprivation, asphyxia or dehydration. The symptoms are similar to those found in other brain injuries, so tests like medical imaging are needed to properly diagnose the condition.
Cephalohematoma – Cephalohematoma is bleeding outside the skull caused by the use of medical forceps or other tools. The blood pools between the skull and the skin. Sometimes there is indication that this type of trauma has occurred, but in some births, there may be no evidence of cephalohematoma.
Persistent Pulmonary Hypertension of the Newborn – Persistent pulmonary hypertension occurs when oxygen doesn't reach the brain and it can be caused by prescription medications given to the mother. Due to the condition, the infant is unable to breathe normally. Some of the symptoms may include rapid breathing, blue color that worsens over the first 24 hours and low oxygen levels.
Wrongful Death – Conditions such as placenta previa, placental abruption, uterine rupture, and preeclampsia are all incidents that can occur during birth that may lead to the wrongful death of the mother or the baby. A wrongful death occurs due to a birth injury or medical mistake.
If you or your baby has suffered a birth injury due to negligence of the doctor or other medical staff, you should seek the opinion of an experienced birth injury lawyer who specializes in protecting and preserving the rights of your child and family. A lawsuit will not reverse the tragedy you have experienced, but it can lift the burden of some of the challenges you face by making sure you receive compensation to cover the costs associated with the birth injury.
Does Having Cerebral Palsy Always Mean a Birth Injury?
Not always. Cerebral palsy can be caused by abnormal brain development. However, it can also be caused by damage to the brain during and after birth. Some studies show that a mother who used infertility treatments can increase the risk of having a child with cerebral palsy. Other causes include:
Infection to the mother
Asphyxia
Birth trauma
Breech births
Jaundice
Bacterial meningitis
Viral encephalitis
Chorioamnionitis
Birth Injury Statistics

Out of every 1,000 births in the United States, six to eight of them are born with an injury. The most terrifying fact is that nearly half of all birth injuries are potentially avoidable by proper identification and planning for obstetrical risk factors.
Race and region play a part in how likely you are to have a birth injury. Blacks and Hispanics have lower birth injury rates compared to Whites and Asian-Pacific Islanders. Urban births are also safer than rural births. Birth injuries occurring in rural areas of the United States are 33% more prevalent than in urban centers.
"Statistical Brief #74." Hcup-us.ahrq.gov. N. p., 2018.
What's the Difference between a Birth Injury and Birth Defect?
The simple answer to this question is that a birth defect occurs during the development in the womb and a birth injury occurs during childbirth or shortly after. Birth defects can be caused by medications prescribed to the mother but can also be caused by genetics. Birth injuries, however, are more likely to have an external cause. Common birth injuries include:
Nerve damage
Brain damage
Broken bones
These types of injuries that occur during childbirth are generally avoidable. Medical personnel takes great care to make sure every childbirth happens without issue. But sometimes accidents happen. A doctor may move too quickly or a nurse may use a medical tool incorrectly. When the actions and negligence of medical personnel cause an injury to your baby, both you and your child may be entitled to compensation for your losses and for your recovery. You owe it to yourself and your baby to explore your options.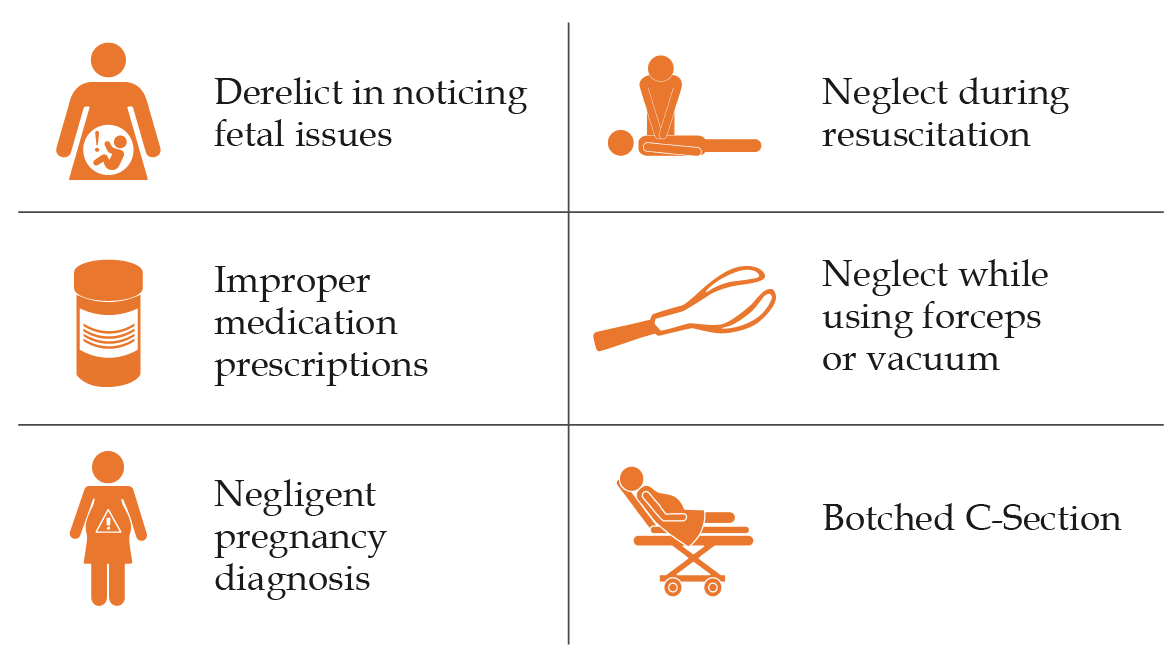 When Should I File a Birth Injury Lawsuit?
As soon as possible. As with many legal matters, there are statutes of limitations which means you only have limited time to bring a suit. In California, that time period is three years. Once your child is born and the birth injury becomes clear, you must file suit within three years. That may seem like a long time, but life can quickly get in the way.
Why is it Important to Hire an Experienced Birth Injury Lawyer?
There are many things you probably haven't thought of regarding a birth injury. What compensation can you receive and from whom? The experienced team of McNicholas & McNicholas, LLP has helped many clients just like you. We have the skill required to give you and your baby the best opportunity to recover compensation from those who wronged you. We focus on the legal aspects while you focus on your family.
Contact us today to discuss your claim and get yourself on the path to recovery.
Your Los Angeles Birth Injury Lawyers
At McNicholas & McNicholas, LLP  obtaining results for clients is what the firm does best. McNicholas & McNicholas has the experience, professionalism, and resources to help if you or your child has experienced a birth injury. Our firm has had success in taking on some of the largest insurance and medical companies and will ensure you receive the compensation you need so you and your family can focus on recovery.
We understand that compensation cannot give back the happiness for you and your family, but it can help ease the financial burdens you face. We accept birth injury cases on a contingency fee basis, meaning we will not collect any fees until a positive result is obtained for you. The birth injury lawyers of McNicholas & McNicholas, LLP understand the stress caused by these types of injuries and have the resources necessary to get you the quality results and continued medical care that you deserve. It's important to act quickly when you or a loved one has been injured.
Contact our office today at 866.664.3055.