Matthew McNicholas Talks with Good Morning America on Defamation Lawsuit Filed Against Spike TV
Partner Matthew McNicholas appeared on ABC's Good Morning America discussing the lawsuit the firm recently filed against Spike TV, on behalf of contractor Jeff Dillman, for allegedly luring him to a fake client's house in order to ambush Mr. Dillman with camera crews and threaten him that if he did not participate in the show To Catch a Contractor, they would assist the homeowner in taking him to court concerning problems for a remodeling job.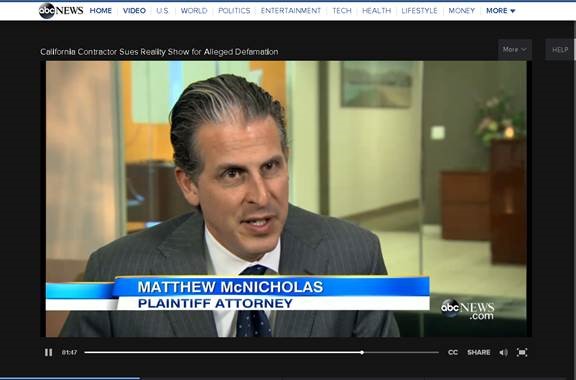 As also published by The Hollywood Reporter, Mr. Dillman arrived at a Los Angeles home believing he was going to retrieve a check for contracted work. Instead, he was surprised by the show's cast and crewmembers, as well as a bouncer blocking the door. Mr. McNicholas' client was then forced to sign a release, appear on the show and complete the remodeling project, in which he was paid $10,000 for his participation. In the course of the show, they brandished his picture while calling him a criminal.
The show aired on Spike TV on March 23, 2014.