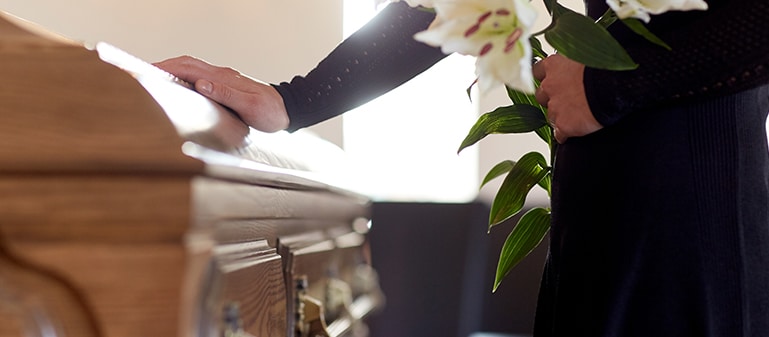 Los Angeles Wrongful Death Lawyers
Helping California families seek justice for the loss of their loved ones
A wrongful death incident can shatter someone's life within moments. At McNicholas & McNicholas, LLP, we understand that no amount of money is ever going to make up for the loss you have suffered; however, the responsible person or party should be held accountable for that negligence.
You are going to face financial hardships you could not have anticipated and stresses you could not have foreseen. Our Los Angeles wrongful death attorneys fight to ensure that such actions will never be repeated, and that you and your family will be safe and secure.
What is a wrongful death?
Wrongful death occurs when the negligence or willful act of another person or persons results in the fatality of one or more persons. Under California law, "The decedent's surviving spouse, domestic partner, children, and issue of deceased children, or, if there is no surviving issue of the decedent, the persons, including the surviving spouse or domestic partner, who would be entitled to the property of the decedent by intestate succession" may file a wrongful death claim for:
Burial and funeral expenses
Loss of future income
Loss of companionship
Under most circumstances, you only have two years from the date of your loved one's death to file a claim. If the death was the result of negligence by a government official or entity, that time limit drops to six months. It is important that you speak to a Los Angeles wrongful death lawyer quickly.
The difference between a wrongful death claim and a survival action
California also has a law regarding survival actions. Where wrongful death claims compensate survivors for the losses they sustained, survival actions are filed on behalf of the estate of the deceased. This is because the right to sue survives, even if the injured party does not. In a survival claim, the estate (via a personal representative) can sue for compensation for medical bills, lost wages and property damage. Generally, these two claims are filed together.
Can you claim punitive damages in a wrongful death claim?
Punitive damages are intended to punish a wrongdoer. Under the law, "where it is proven by clear and convincing evidence that the defendant has been guilty of oppression, fraud or malice," the injured party may seek punitive damages. Therefore, if your loved one's death was the result of "oppression, fraud or malice," you could be entitled to punitive damages in your claim.
Common causes of fatal injuries in Los Angeles
Sometimes, a fatal injury occurs instantly. Other times, it can take weeks, months or even years before a person succumbs to his or her injuries or illness. In Los Angeles County, accidents and unintentional injuries were the seventh leading cause of death between 2015 and 2017, accounting for 24.7 out of every 100,000 deaths.
Some of the more common causes of fatal accidents include:
Accidental poisonings
Toxic exposures
Fires and burns
Drowning
Medical malpractice
Acts of violence
Why you need a Los Angeles wrongful death lawyer on your side
We understand that dealing with any death is already traumatic. Many clients we have spoken with feel overwhelmed and pressured with the aftereffects of such a loss, and the idea of going through a lengthy legal battle may seem too much to bear. Other people feel uncomfortable about the process; they don't want to appear greedy to their own friends and loved ones, let alone to strangers who may read about their experiences.
That is not, at its heart, what a wrongful death claim is about. When a texting driver hits a pedestrian, or a defective rocker causes a child to suffocate, or a company cuts corners and a family is exposed to deadly carbon monoxide, these are types of actions that should never have occurred. A wrongful death claim is a way to hold those negligent parties accountable for their actions, and to ensure that other families do not suffer the same fate.
You should not have to pay for the medical treatments your spouse needed because of someone else's negligence. You should not have to pay for the property loss you sustained when you lost your home to a preventable wildfire, or a loved one to smoke inhalation. You should not have to pay when a company like Boeing installs a faulty system in its jets that leaves pilots unable to control their aircraft. And you should not have to spend the rest of your life worrying about how you will clothe your children, keep a roof over their heads or help them with college. The negligent parties should be responsible for those losses.
At McNicholas & McNicholas, LLP, we fight to do just that by seeking the maximum allowable compensation under the law. Our Los Angeles wrongful death attorneys have secured millions of dollars on behalf of our clients, including:
$ million
for three minor children whose parents were killed in a car crash
$ million
for a father whose four children were shot to death by police officers
$ million
$6.6 million for families whose loved ones died in a shooting spree
$ million
for a family whose father was crushed to death while working in a subway tunnel
$ million
for a family whose loved one died while riding a commuter train
$ million
for a family whose father was killed by a defective auto part
When your family is hurting and you don't know where to turn, the McNicholas & McNicholas, LLP family is here to help you. Founded by three generations, our Los Angeles wrongful death law firm offers compassion and knowledge to guide families through the difficult aftermath of a wrongful death.
Los Angeles wrongful death lawyers protecting your future
While we cannot turn back the clock on an accident, our lawyers can help you seek justice by obtaining the compensation to which you are entitled. The highly skilled team at McNicholas & McNicholas, LLP understands the complexities of wrongful death lawsuits and has achieved exceptional results in these types of cases. Contact us today to schedule a free consultation, or call 310.474.1582.