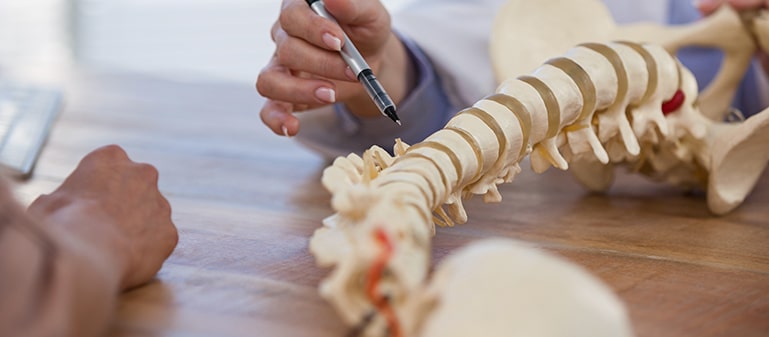 Los Angeles Spinal Injury Lawyers
Helping California spinal cord injury (SCI) and paralysis victims and their families
Sustaining a serious life-threatening injury can be one of the most horrifying experiences a person can go through emotionally, physically and mentally. Not only does such an experience alter the life of the victim, it creates traumatic changes for the victim's family members. Spinal cord injuries can be especially challenging, and almost always involve high medical bills and loss of income, along with immediate and permanent lifestyle changes.
The Los Angeles spine injury attorneys of McNicholas & McNicholas, LLP have been protecting the rights of the catastrophically injured for more than 30 years. Our experienced trial attorneys have secured millions of dollars for our clients, including:
$ million
for a motorcycle rider who was left paralyzed after being struck by a car
$ million
for a man rendered quadriplegic during a basketball game
$ million
for a woman who sustained a severe lumbar injury when her vehicle's seat collapsed
What is a spinal cord injury (SCI)?
Serious injuries to the spinal cord can result in paralysis and even death. Spinal cord injury is caused by trauma to the spine, and depending on the area, can damage nerve roots. According to the National Institutes of Health:
"A spinal cord injury usually begins with a sudden, traumatic blow to the spine that fractures or dislocates vertebrae. The damage begins at the moment of injury when displaced bone fragments, disc material, or ligaments bruise or tear into spinal cord tissue. Most injuries to the spinal cord don't completely sever it. Instead, an injury is more likely to cause fractures and compression of the vertebrae, which then crush and destroy axons – extensions of nerve cells that carry signals up and down the spinal cord between the brain and the rest of the body. An injury to the spinal cord can damage a few, many or almost all of these axons. Some injuries will allow almost complete recovery. Others will result in complete paralysis."
Symptoms may vary but can include pain, paralysis, quadriplegia, paraplegia and incontinence.
The National Spinal Cord Injury Statistical Center estimates there are about 17,730 new spinal cord injury cases each year in the U.S.
Complete and incomplete SCI
Spinal cord injuries are either complete or incomplete. A complete injury is one where all feeling and motor function is lost from the point of the injury and below. An incomplete injury allows for some retention of function and feeling.
Understanding paralysis
The Christopher & Dana Reeve Foundation reports that SCI is the second-leading cause of paralysis (stroke is the leading cause), accounting for 27% of all paralysis cases. About 1.7% of the U.S. population lives with some form of paralysis.
Paralysis is generally categorized in four ways:
Monoplegia: affecting one limb
Hemiplegia: affecting one side of the body (arm, leg, face, etc.)
Paraplegia: affecting the legs, pelvic organs, and some or all of the trunk of the body
Quadriplegia or tetraplegia: affecting all four limbs and the torso
Paralysis affects more than just your ability to move your body; it also affects your internal organs. This is why some people with quadriplegia may need a respirator to breathe, and why many people living with paralysis are rendered incontinent. Because medications often cause constipation, fecal impaction can be common, and can prove deadly if it is not treated in a timely manner.
Common causes of spinal cord injuries
Spinal cord injuries result from many types of accidents and events. The primary causes, per the National Spinal Cord Injury Statistical Center, are as follows:
Vehicular accidents

Falls

Acts of violence

Sports

Medical and surgical

Other

39.3%

31.8%

13.5%

8%

4.3%

3.1%
The "other" category is not defined, but based on our work with SCI victims and families, we know that spinal cord injuries can also result from:
Worksite injuries
Diving into shallow water
Crushing injuries
Chiropractor malpractice
Undiagnosed infections
Epidural use
Genetic malformations
Physical labor
This list does not include every spinal cord injury cause, but encompasses common accidents and events that cause SCI.
How a Los Angeles spinal cord injury lawyer determines fault in a case
Oftentimes, spinal cord injuries are caused by negligence. This could involve a negligent driver who struck your vehicle, or a negligent manufacturer who made a product that injured you. No matter the exact circumstances, you'll have to prove that the person or company you're suing bears legal responsibility for your injuries.
In the case of a car accident, for example, you can sue the other driver and go after his or her insurance company. In the case of a product used, you may have a case against the manufacturer of the product or any of its parts, or against the store where you purchased the product.
What makes spinal cord injury cases different from other injury cases?
Spinal cord injury cases are complex, because SCIs are catastrophic injuries. These cases typically involve filing claims against numerous defendants who played a role in your injury, and coordinating multiple medical disciplines.
They are also incredibly expensive injuries. The estimated lifetime costs for a person with paralysis is millions of dollars, not including the loss of wages or health benefits. When our personal injury lawyers take on a spinal cord injury case, we need to assess what your lifetime costs will be, so we can pursue a just amount for damages, including:
Costly medical bills for hospital stay, medication, surgeries, medical devices and ongoing therapies
Costs associated with assistive technologies, including wheelchairs, ramps and computer software
Loss of wages and future earning potential
Loss of health benefits and other out-of-pocket expenses
Constant pain and/or discomfort
Inability to sustain the same quality of life as before the incident
Overwhelming anxiety, stress and depression
Physical, psychological and emotional issues
If you or a loved one has suffered a severe injury to the spinal cord, receiving the proper legal advice from a spinal cord injury lawyer can help you navigate through the difficult process. There may be multiple parties held liable if you think your injury was due to negligence or intentional or unintentional harm. The Los Angeles spinal cord injury lawyers of McNicholas & McNicholas, LLP are prepared to aggressively represent your best interests. Since 1993, our experienced serious injury lawyers have fought on behalf of SCI victims and their families throughout California. We have the resources needed to handle your claim.
Your spinal cord injury attorneys in Los Angeles
This type of catastrophic injury can be life changing, and you will need experts with compassion to help you and your family during this difficult time. The Los Angeles law firm of McNicholas & McNicholas, LLP can guide you through the lengthy paperwork and insurance claims, and provide a clear understanding of your rights. Contact us today to schedule a free consultation, or call 310.474.1582, and begin putting the pieces of your life back together.
Related Articles