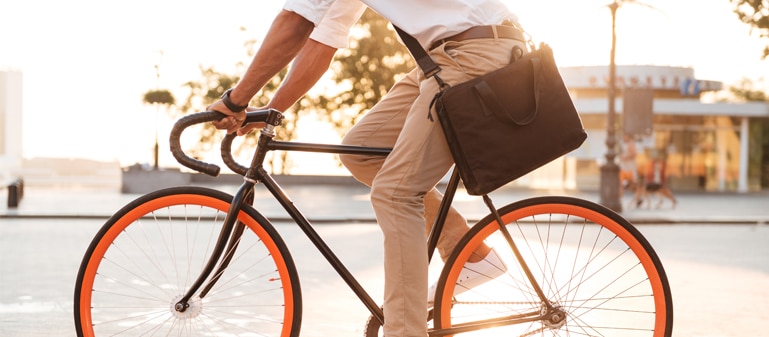 Los Angeles Bicycle and Pedestrian Accident Lawyers
Trusted advocacy for those injured in bike or pedestrian crashes throughout California
Where pedestrians and cars coexist, there is the increased risk of pedestrians being injured or killed by drivers. The experienced Los Angeles pedestrian and bicycle accident lawyers at McNicholas & McNicholas, LLP are dedicated to fighting for the rights of those injured because of another driver's negligence, and those who have lost loved ones in a pedestrian or bicycle accident.
Schedule a free consultation to discuss your case with our legal team, and know that you will never pay attorney fees until we have recovered compensation for you.
Accidents involving bicycles and pedestrians in California
Bicyclists also face dangers when they share the road with cars, trucks and buses on city streets and main thoroughfares. Below are sobering statistics from The National Highway Transportation Safety Administration (NHTSA):
There were bicyclists
killed in traffic crashes throughout the U.S. in 2017. During the previous year more bicyclists were killed in traffic accidents in California than in any other state.
With fatalities
for pedal cyclists, California had nine more fatalities than the next highest state by nine deaths.
In 2018, there were pedestrians
killed in traffic crashes, which is 250 more people killed from being struck by a vehicle than the previous year.
Additionally, pedestrian fatalities have increased 41 percent since 2008, and now account for about 16 percent of all traffic fatalities according to the Governors Highway Safety Association.
What are some of the common causes of bicycle accidents?
Bicyclists who ride in urban areas are constantly on the lookout for other vehicles to make sure that they can make it to their destination in one piece. Drivers of motor vehicles are often not keeping an eye out for bicyclists with an equal degree of vigilance, which can lead to disaster. The following are a few examples of common factors that cause bicycle accidents and collisions:
Driver inattention
Failure to yield right of way
Road debris
Defective road conditions
Distracted bicycling
Night riding without lights or reflective clothing
Causes of pedestrian traffic accidents
There are other causes of pedestrian accidents aside from distracted motorists, including:
Uncontrolled dogs
Bicyclists on the sidewalk
Opening car doors
Skateboarders on the sidewalk
People running on the sidewalk
Examples of pedestrian and bicycle accident injuries
When it comes to traffic accidents, pedestrians are at a clear disadvantage because they are not protected by a vehicle when they get hit. A motor vehicle versus pedestrian crash is sometimes called a "knockdown," because the person is physically knocked down when hit by a moving vehicle.
In a crash involving a vehicle and a pedestrian or a bicyclist, serious injuries can occur such as:
Traumatic brain injury is a major cause of death and disability in the United States, according to the CDC. A traumatic brain injury disrupts the normal function of the brain, and the effects of the injury can be mild (concussion) or severe, with ongoing health problems, physical and mental disability.
Back and neck injuries in a bicycle accident might include slipped, herniated or ruptured discs, and neck injuries which cause pain and disability.
Spinal cord injury which can result in total paralysis leaving the injured person relegated to a wheelchair, or partial paralysis with the loss of sensation and function below the site of the injury on the spine. A SCI can also cause ongoing health challenges such as infection and respiratory problems.
Bone fractures such as skull fracture, broken collar bone or ribs, broken pelvis, hip, knee, ankle, foot, arm or wrist can occur in a pedestrian or bicycle accident.
Limb loss or amputation is a devastating injury that can happen because the pedestrian or bicyclist have no protection from vehicles on the road.
Cuts and lacerations from hitting the pavement if you are thrown from your bicycle, from debris on the road, or broken glass scattered around the accident scene.
Internal injuries such as kidney damage, ruptured liver or spleen, punctured lung, internal bleeding and other injuries that can occur from the impact trauma of a pedestrian accident.
Some pedestrian accidents are serious and require medical attention, and you will not be able to work while the injury heals. Our attorneys work tirelessly to represent your injury claim and obtain the largest possible settlement with the insurance company, or in a civil trial, if necessary.
What damages are available for a bicycle accident or pedestrian accident claim?
Once we have successfully proven the liability of the party who caused your injury, you may be able to recover compensation depending on the facts of your case, including:
Medical expenses related to the injury
Lost wages from time spent recuperating from your injuries
Disability for permanent injuries
Pain and suffering
Emotional distress
Loss of consortium
Other losses
How can an experienced Los Angeles bicycle and pedestrian accident lawyer help me?
At McNicholas & McNicholas, LLP, our Los Angeles pedestrian accident lawyers understand the challenges you face when you are pursuing compensation for injuries sustained after being hit by a car. Bicycle or pedestrian accidents can be complicated, but you can be assured that our attorneys are ready to represent you and fight for your right to fair compensation, regardless of the level of complexity of the case. Our personal injury attorneys conduct a thorough investigation of the incident, gather evidence, interview witnesses, and review police reports and photographs taken at the scene. We prepare a strong case to hold negligent parties and their insurers liable for your injuries and losses.
In cases where the defendant tries to shift blame for the accident on to you, we are diligent about presenting the truth about what happened so that you can recover the maximum compensation possible. If you have been injured in a bicycle or pedestrian accident and you have questions about your legal options, schedule a consultation so that we can answer your questions and advise you on next steps.
Work with an experienced Los Angeles bicycle and pedestrian accident attorney today
At McNicholas & McNicholas, LLP, we offer aggressive representation to clients who have been injured in a bicycle or pedestrian accident caused by someone else's negligence. Call our office today at 310.474.1582 or complete our contact form to schedule a free consultation with a Los Angeles personal injury lawyer.