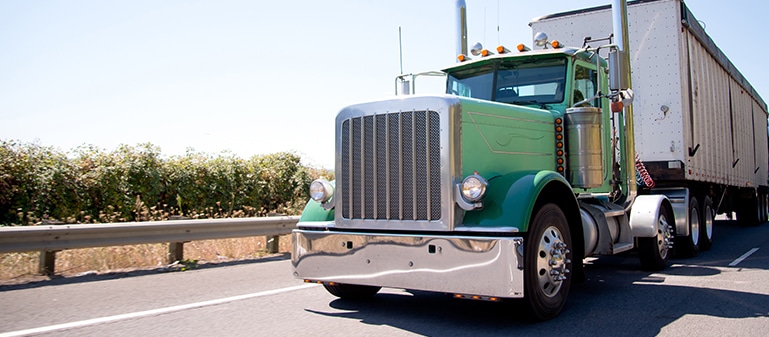 Los Angeles Truck Accident Attorneys
Aggressive representation for clients injured in California commercial trucking accidents
Large commercial trucks – whether an 18-wheeler, an oil tanker or a dump truck – dominate the highway. Maneuvering these massive vehicles is challenging, and even more so on busy California roads and freeways. It's no surprise that trucks contribute to a significant amount of accidents in Los Angeles and throughout the state.
Commercial truck drivers are professionals who are trained to handle these machines, but sometimes make mistakes like any other driver might. When a truck accident occurs because of the driver's negligence, there can be serious injuries and fatalities. At McNicholas & McNicholas, LLP, our experienced Los Angeles truck accident lawyers are here to represent our clients' interests and to fight for compensation for their injuries. We have obtained millions of dollars on behalf of truck accident victims, including:
$ million
for the families of two mothers who were killed after being struck by a corporate van
$ million
for a truck driver whose injuries were caused by poor repairs to his vehicle
$ million
for a family whose loved one died in a loading dock incident involving an 18-wheeler
$ million
for a client who was rear-ended by a semi-truck
What causes commercial truck accidents?
The Insurance Institute for Highway Safety (IIHS) reports that most deaths in large truck crashes are passenger vehicle occupants because of their vulnerability while riding in a smaller vehicle. Trucks can weigh 20-30 times more than the average passenger vehicle and they have greater ground clearance. This can cause an underride collision where the smaller vehicle goes underneath the much larger truck in a crash. Trucks have a longer breaking distance even on dry pavement which is even greater when the road is icy or wet.
The U.S Department of Transportation's Fatality Analysis Reporting System (FARS) reported to the following truck accident data for a recent year:
4,102 traffic fatalities in truck crashes
17 percent of those fatalities were truck occupants
68 percent were occupants of passenger vehicles
14 percent were pedestrians, bicyclists, or motorcyclists
Some of the factors that cause truck accidents include:
Speeding
Distracted driving
Drunk driving
Driving under the influence of drugs or alcohol
Driver fatigue
Inadequate training/experience
Reckless/aggressive driving
Defective trucking equipment
Examples of truck accident injuries
Because of the massive size differential between a large commercial truck and a passenger vehicle, most of the injuries and fatalities in 18-wheeler or tractor-trailer accidents occur with passenger vehicle occupants. While every truck accident injury is different, the following are some examples of injuries from trucking crashes:
Traumatic brain injury can range in severity from a mild concussion to a catastrophic injury. These cases can cause permanent disability and require ongoing medical care.
Spinal cord injuries can cause partial or complete paralysis. A person who is totally paralyzed may not be able to return to his or her job and will require assistance with activities of daily living.
Back and neck injuries such as slipped or ruptured discs, whiplash and other painful conditions can cause temporary or permanent disability.
Limb loss can occur if a vehicle occupant is not wearing a seatbelt and gets ejected from the vehicle, if a passenger was hanging an arm out of the window, or riding with his or her feet resting on the dashboard.
Burn injuries can occur if a fuel tank ruptures in the crash and ignites sparking a fire, and it can cause serious injuries, infections, disabilities, and may require ongoing medical care.
Broken bones are a common injury after a truck accident. Skull fractures or broken collarbones, ribs, pelvis, hip, knee, ankle, foot or wrist can also occur.
Internal organ damage such as ruptured liver or spleen, damaged kidney, punctured lung and other injuries can cause internal bleeding, infection, and other complications.
Your Los Angeles truck accident lawyer's job is to make sure that you receive compensation to cover your past, current and future medical expenses related to the accident.
If you have been seriously injured in a truck accident, or lost a loved one due to truck driver negligence, our Los Angeles wrongful death lawyers will make sure that you recover fair compensation for your loss.
Types of trucks involved in Los Angeles truck accidents
There are many types of large commercial trucks that can become involved in traffic accidents with passenger vehicles, motorcycles, bicyclists, and pedestrians causing serious injuries and death, including:
Tractor-trailers
Semi-trucks
Big rigs
Cargo trucks
Construction vehicles
Delivery trucks
Fuel trucks
Logging trucks
Moving vans
Dump trucks
Tow trucks
Who can be held liable for truck accident injuries and property damage?
Large trucks such as semi-trucks, delivery trucks or construction vehicles are commercial vehicles. The company which owns them, and other related parties, all have insurance policies to protect their business interests. After a truck accident, there is an investigation to determine fault, and then some or all of these parties may be defendants in the truck accident claim:
The truck driver
The owner of the truck
The owner of the cargo
The truck's maintenance vendor
The truck's manufacturer
With all these possible defendants, pursuing a truck accident claim can be complicated. Be sure to work with an experienced Los Angeles truck accident lawyer who will fight for justice when your injury resulted from someone else's negligence.
What damages are available for truck accident injuries?
Before you can recover compensation in a truck accident claim, you must first prove the defendant's liability. Once you have proven which party is responsible for causing your injuries and property damage, you may be able to recover the following types of damages depending on the facts of your case:
Medical expenses for past, current and future medical care related to the injury
Lost income from time you missed at work while recuperating from your injury
Disability for any permanent injuries from the accident
Emotional distress
Other losses related to the truck accident
Wrongful death to compensate the heirs of the decedent for their losses
How do the Los Angeles truck accident lawyers at McNicholas & McNicholas, LLP handle injury claims?
After suffering a serious injury in a truck accident, you have made the smart decision to work with an experienced Los Angeles truck accident lawyer to represent your injury claim. Before you can recover compensation, you will be required to prove that the accident was a result of negligence on the part of the truck driver, the trucking company, the manufacturer of the defective part, or whomever is found to be at fault. To prove liability, we will investigate the scene of the truck crash, request a copy of the police report, interview the witnesses to the accident and gather all of the required evidence. Our firm will use this information, along with your medical records, to develop a strong case. We will then work with the insurance companies involved and negotiate a fair settlement on your behalf. If we are unable to reach a fair settlement, we are prepared to take your case to trial.
Sustaining a serious truck accident injury can disrupt your life in many ways. If you are interested in pursuing compensation from the negligent party who caused the accident, the knowledgeable Los Angeles truck accident lawyers at McNicholas & McNicholas, LLP are available to meet with you to discuss your case.
Schedule a free consultation with our experienced LA truck accident attorneys today
McNicholas & McNicholas, LLP offers aggressive representation to clients who have been injured in a truck accident caused by someone else's negligence. If you were injured in a truck accident in Los Angeles or anywhere in California, our personal injury lawyers may be able to help. Call our office today at 310.474.1582 or complete our contact form to learn more about how we may serve you.
Related Articles: