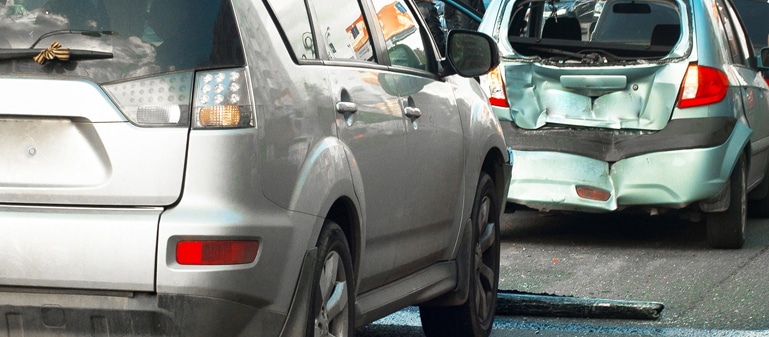 Los Angeles Car Accident Lawyers
Fighting for the rights of clients injured in traffic accidents throughout California
There are over 26 million licensed drivers in the state of California – more than any other state. Moreover, Los Angeles, known as a "driving city," regularly tops lists of the world's most congested cities. With so many drivers on the road and distracted driving on the rise with the use of smartphones to talk and text, it's no wonder the number of injury-causing and fatal car accidents continues to increase.
At McNicholas & McNicholas, LLP, we have helped countless clients who have been injured in a car accident caused by someone else's negligence. Our Los Angeles car accident lawyers have the skills required to hold those responsible for your injuries and losses accountable. We offer a free consultation and we take cases on contingency, so you never pay attorney fees until we have recovered compensation for you.
Car crash facts about California's roads
People get injured and die in traffic crashes on California roadways far too often. Of the nearly half a million police-reported car crashes in 2017, there were 3,898 fatalities and 27,823 injuries according to the California Active Transportation Safety Information Pages (CATSIP). Regardless of how much technology is added to vehicles to warn the driver when there is a possible collision up ahead and to monitor blind spots, fatalities, injuries and property damage continue to happen when drivers aren't paying attention.
What to do immediately following a car accident
Being involved in a car accident can be a shocking experience. Your heart may be racing, and you may feel a rush of adrenaline after such a surprising event. Here are a few tips for you to keep in mind immediately following a motor vehicle crash:
If you are involved in a car accident, remain at the scene. Under California law you are obligated to stop and make sure that the other people involved in the accident are safe.
If you or someone else has been injured, call 911 immediately.
Call the police. Depending on where you are and the severity of the crash, a police car may not show up, but you must notify law enforcement immediately.
Get the names, contact information and insurance information from the other people involved in the crash.
Get license plate and VIN numbers for the other vehicles involved in the crash, and ask the drivers for their driver's license numbers.
Get the names and contact information for any witnesses.
Take pictures of the property damage, the accident scene and the immediate surroundings.
If you are involved in a crash with a parked car, leave a note with your contact information so the vehicle's owner can contact you.
Call your insurance company and notify them of the incident.
If there are injuries or property damage exceeding $750, you are required to report the accident to the DMV. (CA Department of Insurance)
Finally, call a Los Angeles car accident lawyer. McNicholas & McNicholas, LLP can represent you in your car accident injury claim.
If you have already been in a car crash and did not take some of these steps listed, you will want to contact an experienced Los Angeles car accident lawyer to review your case and advise on the legal options available to you.
Common causes of car accidents in Los Angeles
The NHTSA reports that most car crashes are a result of some form of driver error. The following are examples of the common factors that contribute to car accidents:
Speeding
Driving under the influence of drugs or alcohol
Fatigued driving
Inexperienced drivers
Reckless driving
Road construction zone accidents
Defective automotive equipment
Poor weather conditions
Common types of car crash injuries
While each car accident injury is different some forms of injuries are common:
Head and neck injuries such as skull fractures, slipped, ruptured or herniated discs can cause chronic pain, muscle spasms and other disabling conditions.
Whiplash which is a soft tissue car crash injury that can cause serious pain, and limited range of motion.
Traumatic brain injury (or TBI) can occur even when the head does not strike or get hit by an object. TBI can cause long-term catastrophic injury resulting in disability.
Spinal cord injury can lead to complete or partial paralysis depending on the location and severity of the injury on the spinal cord. A spinal cord injury can cause permanent disability and cause other related health conditions.
Cuts and lacerations can occur from the broken glass, sharp metal and road debris.
Amputation from crushing injuries can occur. Car or truck accidents are the leading causes of traumatic limb loss, which can also lead to infection.
Internal organ damage after a car accident might include a ruptured liver, spleen, kidney damage, a punctured or collapsed lung, or injury to other internal organs from the trauma of a motor vehicle crash.
Burn injuries can occur from fiery explosions after a car crash, exposure to steam or the deployment of an airbag.
Bone fractures might include crush injuries, broken ribs, arms, pelvis, knee, foot, ankle, spine or skull given the tremendous forces in a car crash.
The nature and severity of your injuries and the type of medical treatment required forms the basis of your compensation claim. If any of your injuries are catastrophic or will require ongoing medical care, this can increase the amount of compensation we will pursue on your behalf.
How much does it cost to hire a Los Angeles car accident lawyer?
Because we take car accident injury cases on contingency, you never need to worry about paying for our services up front. We advance the cost of pursuing your case and you do not pay attorney fees until we have recovered compensation for you. Our contingency fee is a percentage of the total settlement or verdict which we explain in detail at our initial consultation.
How much is my car accident injury case worth?
It is not uncommon for new clients to want to know how much they might be able to recover in a car accident injury claim. However, it is not possible to immediately provide an accurate number because there are so many variables to consider. Until your injuries have resolved and your doctor is able to determine if there is any residual disability that will affect your ability to work, or if there is any disfigurement or other medical conditions that will require ongoing care, it's difficult to gauge an exact amount.
We can promise that our Los Angeles car accident attorneys at McNicholas & McNicholas, LLP will be dedicated to making sure that you recover the maximum compensation available. We have secured millions of dollars for our car accident clients and their families, including:
$ million
for three minor children who lost both of their parents in a car accident
$ million
for a young client who sustained a traumatic brain injury in a single-vehicle accident
$ million
for a client who sustained a head injury after being T-boned by another car
What damages are available for a car accident injury case?
If you can prove the liability of the person who caused the car accident in which you were injured, there are several types of damages that you may be able to recover depending on the facts of your case, including:
Medical costs for past, current and future medical care related to the accident injury
Lost income from time you missed at work while recuperating from your injury
Disability
Diminished earning capacity
Pain and suffering
Emotional distress
Other losses
McNicholas & McNicholas, LLP is a Los Angeles-based plaintiff's law firm founded by a family of three generations of attorneys, John McNicholas and his two sons, Patrick and Matthew. In our more than 30 years of practice, we have built a reputation as a leading law firm in California. A winning combination of experience, teamwork and professionalism has allowed us to achieve precedent-setting and record-breaking verdicts and settlements for our clients.
If you or a loved one has been injured in a car accident that was caused by someone else's negligence, turn to the experienced Los Angeles personal injury lawyers at McNicholas & McNicholas, LLP to fight for the compensation you need.
Contact our Los Angeles car accident lawyers for help
At McNicholas & McNicholas, LLP, our focus is on you, the injured client. Our family-owned and operated law firm is a seasoned legal team with the resources and tenacity required to protect your interests when you have been injured in a car crash as a result of someone else's negligence. Call our office today at 310.474.1582 or complete our contact form to learn more about what we can do for you.
Related Articles: