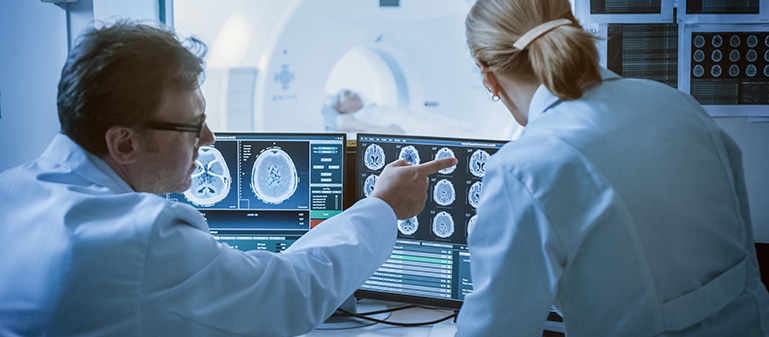 Los Angeles Traumatic Brain Injury Lawyers
Aggressive representation for California TBI victims and their families
Brain injuries come in all forms and can impact every aspect of your life. Victims may face a lifetime of financial, physical and emotional struggles. A catastrophic brain injury presents a host of challenges that make it difficult to sustain the quality of life the individual had prior to the accident.
McNicholas & McNicholas, LLP is prepared to fight for your future. Our Los Angeles brain injury attorneys have earned a reputation for their willingness to take on giant corporations and national insurance companies to ensure successful resolutions for our clients. We have been winning cases for over 30 years, and have repeatedly secured multimillion-dollar verdicts for our clients, including:
$ million
for a 26-year-old passenger in a single-vehicle accident
$ million
for a truck driver injured as a result of a defective truck part
$ million
for a victim of a T-bone collision
$ million
for a young man who fell and suffered a brain bleed
The physical and emotional trauma associated with brain injuries can be extreme and unlike any other injury. The experienced team at McNicholas & McNicholas, LLP is here to prevent further suffering and hold responsible parties accountable.
Brain injuries are common and costly
According to a report published by the National Conference of State Legislatures, there are about 2.8 million new TBI cases each year, leading to:
5 million Emergency Department visits
282,000 hospitalizations
50,000 deaths
How does California rank for traumatic brain injuries?
In 2018, a piece published in BMJ Open reviewed brain injury data from California's Office of Statewide Health Planning and Development. The researchers identified 1.2 million adult patients diagnosed with TBI between 2005 and 2014. Based on the data:
Emergency department visits for TBI increased by 57.7%
Out of all the visits, 40.5% of patients revisited the emergency department within the first year
4% of all revisits resulted in rehospitalization
In 2014 alone, there were 32,838 TBI cases that led to non-fatal hospitalization in California.
Common causes of brain injuries in Los Angeles
Brain injuries can occur in many different ways. Generally, brain injuries require some level of trauma to the head or neck. Some of the more common causes include:
Being hit by falling objects
Physical assault
Blast injuries from explosions
Medical malpractice
Sports injuries
What is a traumatic brain injury?
A traumatic brain injury (TBI) is any contact with the head that results in a disruption of normal brain function. This can range from a concussion to a coma. The CDC categorizes TBIs in two ways:
Penetrating injuries, or open TBIs, occur when an object penetrates brain tissue.
Non-penetrating injuries, or closed TBIs, occur when an external force causes the brain to move within the skull.
While a concussion is the most common form of traumatic brain injury, it is by no means the only type. TBIs typically may involve:
Contusions
Skull fractures
Diffuse axonal injury
Shaken baby syndrome
Hematomas
Lesions
Hemorrhage
What are the symptoms of TBI?
A brain injury can have a multitude of both psychological and physical effects. Symptoms can appear right after a brain injury as well as later after the injury occurs. The most frequent brain injury symptoms include:
Loss of consciousness for any length of time
Nausea or dizziness
Concentration problems
Sudden headache
Loss of balance
Speech problems
Abnormal behavior
Drowsiness
Blurred vision
Mood swings
Ensure that you see a doctor if you, your child, or a loved one has received any kind of blow to the head and is experiencing any of the signs above. Receiving emergency medical care immediately after a brain injury is very important to ensure proper determination of any damage that may have occurred.
The long-lasting effects of concussions
Because concussions are often referred to as mild traumatic brain injuries (mTBIs), the misconception is that they are not serious or dangerous. In fact, concussions can also have lifelong effects on a victim. Researchers from the University of California San Francisco have found that even one concussion increases a person's risk of developing Parkinson's disease and dementia later in life.
There is also a risk of post-concussion syndrome, "a complex disorder in which various symptoms – such as headaches and dizziness – last for weeks and sometimes months after the injury that caused the concussion," per the Mayo Clinic. Post-concussion syndrome presents with the same symptoms of concussion; they just last longer.
Who is at greatest risk of a concussion?
Concussions are most dangerous to the young – anyone with a developing brain. The CDC recently released a new set of comprehensive guidelines for diagnosing and treating children with mTBI, to help parents and doctors alike.
Young adults are also at risk. In 2018, researchers at the University of New Hampshire reviewed cases of victims age 18-24 who had sustained at least two concussions, with the most recent occurring within one month of the testing. They "found that young adults who experienced repetitive mild traumatic brain injury (mTBI), or concussions, can experience persistent cognitive changes as well as altered brain activity." When asked to perform task-switching activities, like identifying different shapes and colors of objects, the researchers "found an overall lower performance rate from those in the concussion group during the task-switching exercise. They were less accurate and processing performance was low."
What is the cost of a TBI to a Los Angeles brain injury victim?
The initial treatment and rehabilitation costs can bankrupt victims of brain injuries. It is estimated that brain injury costs range from about $85,000 to $3 million. Even at the low end, the costs associated with brain injuries are staggering. Many people won't be able to afford the treatment associated with brain injury, even if they have excellent insurance.
The cost of quality of life
Just like no two people are alike, no two brain injuries are alike. Brain injuries can impact your life in minor ways or require lifelong treatment and rehabilitation.
Mild brain injuries may require you to rest for a few days, keep a close eye on your vitals and possibly even spend a night in the hospital.
A lifelong brain injury victim may have trouble with learning and comprehending new information, making decisions or communicating with family members. In addition to the injury, victims may encounter trouble sleeping, lose their sense of taste and smell, or suffer from vision and balance problems.
Severe brain injuries can come with permanent physical or cognitive disabilities. Victims may no longer be able to speak, walk, work or perform daily tasks. Brain injury victims suffer from the loss of many joys or functions in life we take for granted.
The effects of TBI on your loved ones
In the most severe circumstances, victims of brain injuries will require constant care, treatment and rehabilitation.
As a loved one of someone who has suffered from a brain injury, you may become a lifelong caretaker and may underestimate the physical and emotional toll of this role. Caring for a TBI victim may cost you your job, your health insurance, your time spent with friends and loved ones, and your sense of self.
McNicholas & McNicholas, LLP, can help ease the mounting financial costs associated with brain injuries by fighting to get you the compensation you deserve and need to afford proper care. With you and your loved ones' future financially secure, you can rest easier and live your best possible life.
Resources for TBI victims and caretakers in Los Angeles
Claiming damages after sustaining a TBI in Los Angeles
If your loved one's brain injury was the result of another person or company's negligence, you may be entitled to damages. With the help of a Los Angeles TBI attorney from McNicholas & McNicholas, LLP, you may be able to recover the following damages from those who caused the brain injury:
Pain and suffering
Past, present and future medical bills
Lost wages
Loss of companionship
Therapy
Emotional distress
Generally speaking, you only have two years to file a claim for damages for a brain injury. This is why it is critical that you seek legal counsel as soon as possible after your injury, so that we can begin the process of recovering the compensation you need.
Contact your Los Angeles TBI lawyers today
The Los Angeles brain injury attorneys at McNicholas & McNicholas, LLP are sympathetic to the stress that these injuries cause, and they have the resources required to ensure you receive the quality results that you deserve and the financial compensation for the cost of medical care. It's important to act quickly when you or a loved one has been injured. Contact us today to discuss your claim and start the path to recovery, or call 310.474.1582.
Related Articles: